---
PRAISE BE! Suzy Spreadwell Chapter 2 Premieres at Martian Lit!
Your wait for more of America's Sweetheart is over!
The public premiere of chapter 2 of SUZY SPREADWELL has begun at Martian Lit and will run each Monday. Click here for page 1, where we meet Suzy's parents!
Or if you can't wait, read the entire chapter now for only a $5 pledge supporting my work (which unlocks a lot more as well) today!
And of course, chapter 1 is available now in THIS SICKNESS #8 at Amazon(print & Kindle), Comixology, and Google Play (digital).
___________________
Labels: bottomless studio, christianity, my art, my comics, satire, suzy spreadwell
Nope: My Books Censored AGAIN At Google Play
So much for this delusion that Google Play wised up; once again they banned VLADRUSHKA, STORY OF OH, and MARTHA, the last of which is available at Amazon and has been a while.
So I continue to not be able to have about half my books available for sale. Obviously, I'm livid. You all should complain.
___________________
Labels: bastards, bottomless studio, censorship, my comics
HAPPY EASTER! New Suzy Spreadwell page at Patreon! + LULU Restored At Google Play (UPDATED)
Yep! The newest Suzy Spreadwell page, freshly finished (Chapter 2, p. 11) is posted at Patreon, and for a mere $5 pledge you can read it, all the chapter to date, and all future pages well in advance of everyone else, as they're finished. A mere 5 bucks (which is full access to everything) is all it takes. Pledge now!
Read chapter 1 here and in THIS SICKNESS #8, available in print (and Kindle) at Amazon, and in digital at Comixology & Google Play!
Speaking of Google Play, great news there: I have won one part of my censorship fight. Because you can also find LULU B

ook 1

restored. Apparently V

la

dr

u

shka remains banned because Google Play likes zomb

ie rape (all of CROSSED is available there) better than sex

.
___________________
Labels: bottomless studio, my art, my comics, suzy spreadwell
"Koba's Bad Cut" by James Snowden, Read By Myself (2009, Updated)
A live reading of James Snowden's "Koba's Bad Cut," performed by me at Faire Gallery & Cafe and introduced by Mr. Snowden, in Seattle, Aug. 17, 2009 for the McCroskey Memorial Internet Playhouse. Yes, that's supposed to be a Russian accent I was asked to perform it in, something I learned actually when I was in YOU CAN'T TAKE IT WITH YOU in high school as Mr. Kolenkhov, the Russian ballet teacher. You judge how accurate it is...I'm not sure it's so good. But the story is great!
Update: And now you can also buy the story here in the MAKE X anthology.
___________________
Labels: it's all about ME, my performances, Russia, seattle
Your Sunday Movie: Aguirre, The Wrath of God (Herzog, 1972)
___________________
Labels: 1970s, film, Germany, herzog, sunday movie
New SUZY SPREADWELL At Patreon!
Of late, having noticed the crickets and tumbleweeds, I made some changes at Patreon. Recently I begrudgingly added a video because apparently that's the thing to do. And this week I made it more of a subscriber system: now it's just a flat monthly pledge of a pathetic $5. And for this, you will get first look at all my new stuff; the Bottom pledge unlocks all patron-only posts.
Of course, you can give as much or as little as you like, and all help is appreciated. And perhaps at some point in the future I will restore the rewards I'd initially tried for higher pledge levels. But for now, I'm trying this, so take advantage of this naked bid for

very few

of your dollars!
And here's the first thing you'll see for your generosity: the first half of the new SUZY SPREADWELL! A limited premiere, before anyone else, of the first 10 pages (I'm not sure of how many yet--this had been meant to be all of that chapter but I'm making more, see below) for Bottoms only. I'm sure you'll be proud to declare yourself one. I'll be having a lot more for subscribers to enjoy in the coming weeks and months.
An item, for instance, your pledge also unlocks is the frequently censored VLADRUSHKA collection, the whole high-res

edition for your download, banned by every POD and e-book vendor.
And more will come. In the meantime, here's plain unlettered inks for page 11, completed last night. (click to expand) Yep, I'm amazingly slow these days; limited time and energy.
With your pledge though, I may get more time to work, so that means more comics and writing! So give today, and thanks!
___________________
Labels: bottomless studio, my art, my comics, suzy spreadwell, vladrushka
"Eternity with Beelzebub, and all his hellish instruments of death, will be a picnic compared to five minutes with me and this pencil." - E. Blackadder, 1791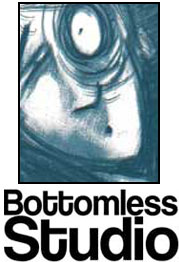 Questionable words & pictures from John Linton Roberson
SUPPORT US AT PATREON!
NEW RELEASE!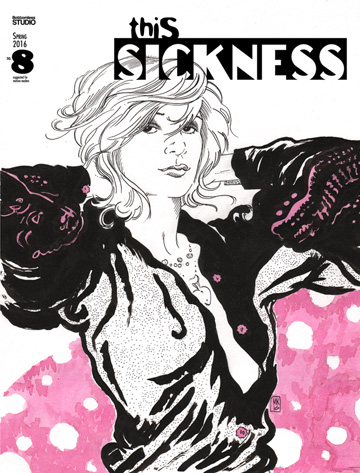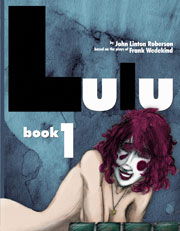 LULU Book 1(2013)
with an introduction by Martin Pasko
Amazon | Createspace | Comixology
Features: