---
In Progress: Some New Suzy Pencils Posted
I spent way too long detailing a tree I'm only going to ink over last night, and today my index finger is in hideous pain. Do click here to see what I done did, posted (for everyone, but please take the opportunity to pledge) at Patreon. (or click image below to see less tiny version)
___________________
Labels: comics, my art, my comics, suzy spreadwell, this sickness
An Evil, Reptilian Pamphlet Disguised as a Show: Why You'll Never See Me Post Any "Yes, Minister"
Tried to watch the first season of YES MINISTER but couldn't escape thinking that its characters and creators are all horribly smug evil cynical bastards who should be in Hell.
Though Nigel

Hawthorne

is amazing, regardless, with a cold, ambiguous stare to rival Ralph

Richardson

(whom I never noticed he resembled a bit). Good that he moved on to worthier work. I only knew w

hat he did later, not this.
It's propaganda, really, and not in theory but in fact, as one of its showrunner/creators was an advisor to Thatcher(the other later did NUNS ON THE RUN, so, you know, talent finds its own level). And I have studied propaganda since college; it's something my work examines and appropriates from sometimes. But this is so obvious and graceless. Did it seem so at the time?
In Adam Curtis' THE TRAP, they brag about the messages they inserted into the shows.
Like they have to point them out. They're just there, THUD for looong stretches, long and barely dramatized, nearly every line a party political speech, with wry little what-fools-these-mortals smiles on their faces. Only watching Hawthorne makes it bearable. The kind of sitcom only a banker would enjoy.
But this is a keen example of satire

from the Right, with all the attendant smug long speeches acting as though their alternative (Thatcher's) was common sense, and the only reason for opposition were people trying to cling to undeserved places. This show and Thatcher managed to recast unions, the civil service, and the like as a type of new landed aristocracy, and took advantage of that feeling to redirect the hatred toward the ACTUAL powerful, who remained undislodged and enriched. And this was only speaking to the educated classes, very dry by design, what one might call "sophisticated." Like Fox but

classier

.
It's an evil, reptilian pamphlet disguised as a show and I don't even like studying it as a historical artifact. I post UK comedy here often. This isn't comedy. It's tragedy, but not in the classic sense. Because it worked. As I understand it, it inspired THE THICK OF IT. Thankfully, I can only see the barest influence, because THICK OF IT is brilliant and leaves me with none of this feeling I've accepted a sales pitch without knowing it, as this seems to.
___________________
Labels: 1980s, 20th century, bastards, comedy, UK
Pet Peeve: Flying Female Superheroes in Skirts
So BATMAN rebooted recently, with Tom King (who I haven't heard of before) and David Finch. And it's not bad--certainly one of the least boring of the DC Rebirth stuff so far. As far as the unholy mess that's now Superman,no comment; it is interesting though whenever they reboot that they go to some trouble not to fuck with Batman in any permanent way.
There's a thing though that bothers me and brings one of my biggest character design pet peeves to the fore: why would a flying female character ever wear a miniskirt? And for that matter, a tiny girly mini?
Here are two new mysterious characters they've introduced, Gotham and Gotham (ech) Girl, the latter name to me already amazingly sexist and dated:
A few problems are immediately obvious. the first being: why would a superheroine want people to always be able to see up her skirt? I'm sure Roger Ailes would approve, but he's not in charge of DC. (and hopefully, not much longer at Fox either, but that's a digression) Skirts. Thongs. Why would a crime-fighter not want to protect her legs? Do they not ever even get cold? Why would she want to display her ass and...more, every time she wears her costume?
But also: why would you fight crime in a skirt anyway? I don't know a woman who even wears a skirt when she's doing a chore. Because skirts (and thongs, for that matter) are impractical and pants are not, if you're doing things in many cases, except maybe dancing or like that. But surely if you're fighting crime and flying.
But even more so, a simple matter of physics. What happens every time she's descending to land? Well, if you know what an updraft is, and apparently many mainstream male comics artists do not, this:
And that's a much longer skirt. Now imagine one you can barely hold down. A skirt that would even make sitting awkward. Imagine this every time she lands.
I suppose that thought turns some on, but to me it's juvenile. No woman who intended to survive or be taken seriously would fight crime in a skirt or a goddamn thong.

And even from a sexist point of view:
if it's sexy legs you're after--as all comics artists know, without color all skintight suits, even pants, are nude, so why bother with a skirt anyway even then? Doesn't make much sense even from that angle.
________________
Toto: Arrogant Imperialist Monsters Who Also Don't Know African Geography (UPDATED)
Read more »
The Banned VLADRUSHKA #1: Yours for a Minimum Pledge at Patreon
As most of you know, I have had a number of censorship issues with
Vladrushka
, one reason I haven't drawn her in a while. Well, for those that pledge at my Patreon, the elusive VLADRUSHKA #1 is available again in digital form! For the minimum suggested pledge ($15--however, you can give as much or as little as you like otherwise and thanks) you can download the whole
60-page collection of all Vladrushka stories from 2003-2010. Check it out!
___________________
Labels: censorship, my comics, vladrushka
Your Random UK Comedy for Today #20: Nathan Barley (Brooker/Morris, 2005)
From UK dark comedy geniuses Charlie (BLACK MIRROR) Brooker and Chris (too many to list but if you come here often you know that) Morris comes a satire of, well, the early pre-Facebook/Twitter internet, but still hilarious. We do still have ridiculous hipsters, and some of the jokes here are more true than they were. On the other hand, the show revolves around a successful print magazine that doesn't seem to have a website, and that was already dying in 2005. Anyway, it's a great show. Enjoy!
___________________
Labels: 2000s, chris morris, comedy, technology, UK
Keep the Aspidistra Flying (aka A Merry War; Bierman, 1997)
Writing: It Will Destroy You
Overlooked gem. A film that completely dropped out of sight in 1997, which is odd. You'd think a George Orwell adaptation starring richard E. Grant & Helena Bonham Carter would have gotten a bit more attention. Possibly this was partly to do with the boring title the US distributor put on it, "A Merry War," and having seen the film I still can't see what that has to do with the story. Most likely it's because we don't really know the word "aspidistra" in America. It's basically a kind of basic, hardy fern that requires little care and is hard to kill, though the protagonist Gordon Comstock, who sees them as a symbol of everything he hates about British middle-classness, does his best.
I will say it will warn you off ever thinking that writing is a way to fame and fortune. The beginning may remind you a bit of HOW TO GET AHEAD IN ADVERTISING, but this novel had been one of its inspirations in the first place. (and for WITHNAIL fans: Grant vomits on someone's shoes) Personally, I'm just happy to see one of his other works besides ANIMAL FARM and 1984 get some attention. A film of DOWN & OUT IN PARIS AND LONDON or HOMAGE TO CATALONIA might be cool too. So here's pretty much the only place you'll see it. Enjoy:
___________________
"Eternity with Beelzebub, and all his hellish instruments of death, will be a picnic compared to five minutes with me and this pencil." - E. Blackadder, 1791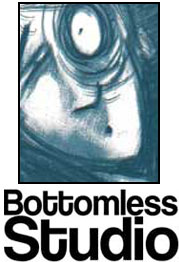 Questionable words & pictures from John Linton Roberson
SUPPORT US AT PATREON!
NEW RELEASE!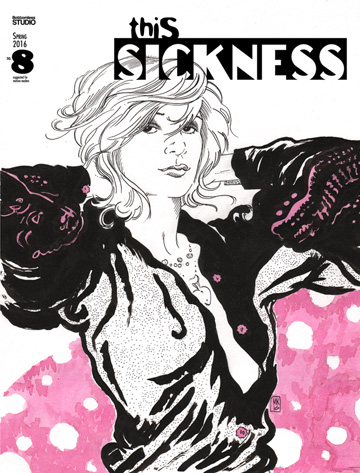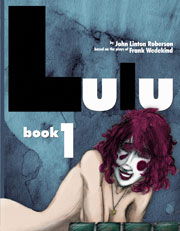 LULU Book 1(2013)
with an introduction by Martin Pasko
Amazon | Createspace | Comixology
Features: